Commonwealth Heads of Government Meeting 1971 Official First Day Cover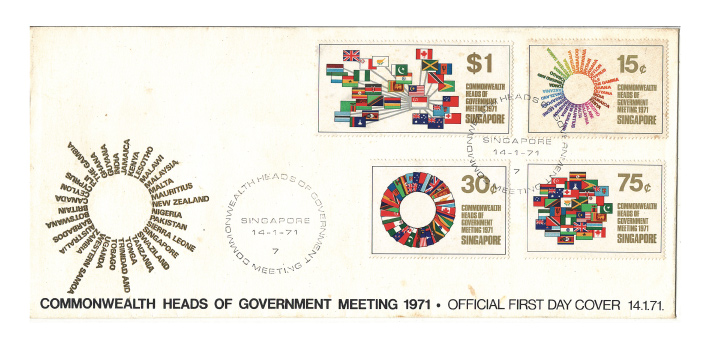 First day cover to commemorate the meeting of the Commonwealth heads of government in Singapore
| | |
| --- | --- |
| Designer | |
| Client | Postal Services Department |
| Year | 1971 |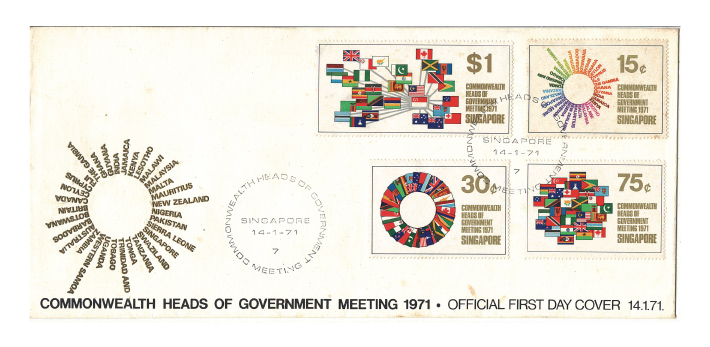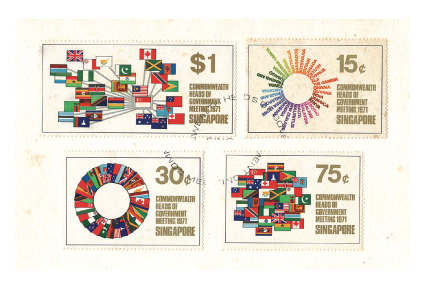 The first day cover consists of four stamps design to represent the first major international event held in the young nation of Singapore. In three of the designs, the stamps achieves this by arranging the flags of the 31 participating countries in various forms—circular, a roughly rectangular block and a map of the world respectively—that symbolically suggest their equal status. A fourth stamp was also created with a similar design approach but with only the names of the countries in a radial arrangement. Gold was used to convey the prestige of the occasion, while the flags were arranged in the most attractive manner as an alphabetical order meant the colours and crests frequently clashed.
The stamps were created by William Lee, who had returned to Singapore in 1969 after spending years working and studying design overseas. He made it his personal mission to raise the quality of stamp designs in Singapore after meeting a philatelist in London who commented that previous designs lacked colour and were not attractive. The Commonwealth series was his second such commission, and he subsequently made a name for himself designing many of Singapore's stamps in the 1970s and 1980s. The Commonwealth stamps were also featured in the prestigious Stanley Gibbons' Stamp Monthly in 1971.
"The series gave me personal satisfaction as it brought Singapore stamp designs to international standards," Lee later said in a early 1970s profile. In another interview, he revealed that he would donate the prize money for his stamp designs to the National Defence Fund as he did them only for the challenge.
Lee originally submitted six drawings of which four were eventually accepted. Two of the rejected designs include one where the flags came in a spiral and another with the flags arranged in the numbers '18' as it was the 18th Commonwealth conference.
References

"Commonwealth Heads of Government Meeting 1971, Singapore." Stamp Monthly, 262-263
Fong, Leslie. "Challenge that led him to design stamps." The Straits Times, 12 September 1970, 26.
Tien, Albert. "Profile of a dynamic designer."
"William Lee of Singapore." Stamp Monthly, March 1971, 261.